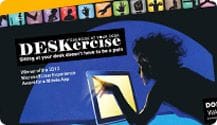 Introducing Beverley D. Burdeyney. Beverley is a Balloonologist, and creator of a program which is the art of using Balloons for exercising and physical therapy
I have been practicing "total body rehabilitation and functional movement"for 55+ years. I am the first declared Personal Exercise Coach in Toronto, dating back to 1984, providing one-on-one service to individuals in the home or office.
GOOD HEALTH IS A WELL-PLANNED JOURNEY AND LET ME TELL YOU ABOUT MINE.
CLICK IMAGES TO SEE VIDEOS
CONTACT:
Norman Evans
Creative Director
Tel: (416) 722-5186
Norman@dontwaitdoit.com
Twitter: @norman_evans
YouTube: Youtube.com/normanevans1