ComicReply
Growing Playful Brands
In today's digital marketplace businesses must have the following elements in place:

* Website (mobile-friendly)
* eCommerce (if they need to sell online)
* Email Marketing (for lead generation + communications)
* Customer Relationship Management (CRM) tools (customer database for sales)
Then there are many other tools that become essential as needed, such as Surveys, Polls, Contests and others.
Once a company has all of the basics in place (the sales funnel is working), then they look for ways to bring in more visitors. That's where we can help. ComicReply is an advanced contest marketing platform.
There are several types of contests that companies run online:
* Simple form - participants fill a form and wait to see if they won the draw
* Simple entry - trivia questions / caption for an image / answering a question / etc.
* Photo or video - upload a photo or video and share to get votes (most-voted wins)
* Others - various combinations on social media networks (i.e. Twitter contest)
ComicReply takes you beyond all of these by introducing a totally new dimension to the contest experience - enabling fans to create branded-personalized 'fan-art' as contest entries!
That means your fans will finally be able to create their own stories using your branded content.
ComicReply is the first marketing platform that enables brands to upload their content assets and easily enable fans to create remixes by positioning elements, adding text, drawings, special effects, and other multimedia expressions to produce interesting contest entries.
We support a large variety of creative entries (comics, drawing, audio-narration, object-making, character-making, and others).

We call these 'Creative Contests'. Another industry term that was recently coined is 'Co-Creative Campaigns' (where the fans 'co-create' virtual items with the brand).
Creative Contests are extremely effective marketing vehicles because fans love to play with branded content elements. Once they create an original entry, proud of their creation, they share them with friends to get votes (towards winning prizes). This 'Wow Factor' makes creative contests much more effective than regular contests.
So far these types of advacned contests have been custom expensive projects made by agencies for brands.
Our goal is to make these commonplace by offering a simple platform for launching a unique creative contest, managing it, and measuring the results. We want to make this affordable for SMEs.
For more info download our brochure or visit http://comicreply.com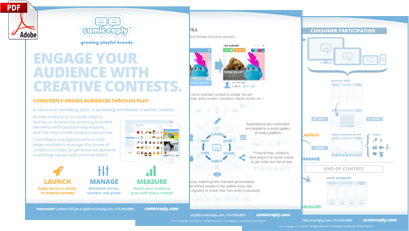 Comic Reply - Request for Information