ABOUT DESKERCISE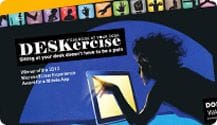 The DON'T WAIT DESKERCISE program for the Business Community was created by CMN, to constantly remind people of the benefits derived by doing one minute exercise routines throughout the day to increase their overall wellness and fitness levels.
Through a series of twelve 1-minute exercises, the program introduces an awareness of exercise throughout the day, reminding people that they can exercise as often and at the pace they enjoy, thus bringing about a vitality to themselves and throughout their organization. This will enhance the relationship and good will between employees, customers, causes and brands and will help to increase productivity, and reduce costs.
Doing these daily exercise routines can help you prevent health problems, increase your level of brain activity, and reduce overall stress levels, without ever leaving your desk.
Enjoy the video slide presentation and DONT WAIT
How it works
The program helps organizations bring exercise awareness to everyone involved, with simple 1-minute exercise descriptions and reminders throughout the office.
The program which can be customized to meet each individual company's needs, including Seminars, Calendars, Check lists, Sticky notes, Bookmarks, Screen savers, Digital reminders, Mobile apps and more.
Please fill out the form below if you are interested in our DONT WAIT DESKERCISE corporate program.
CMN takes great pleasure in introducing an exciting exercise program created by Beverly D. Burdeyney a renowned Personal Exercise Coach, Fitness Writer and Lecturer, Community Volunteer and Fundraiser. and
Now, a Balloonologist...
Request for Deskercise information